Extreme Web Surfs!
Wednesday, July 28, 2004
DEATH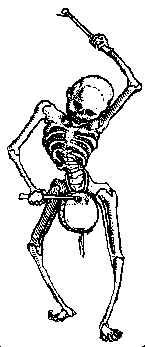 Yesterday, I jokingly commented on
Christopher's Blog
that I would assemble a grim set of links for his next visit, in retaliation for a piece he wrote reminding us all of the ticking clock of mortality. So here it is! But don't take it too hard, Chris, you know I have to plumb the depths of morbidity at least once a month anyway...
Let's start with a few more serious ones. The
Sociology of Death and Dying
is one of the best pages on the topic..
Dr. Gail Walker is a psychologist at Alfred University who has been on the forefront of the stufy of issues relating to death and bereavement. Not long ago, she found out she has terminal cancer herself. This
open letter
is not light reading, but it is loaded with wisdom, insights and spirtual hope. If you or someone close to you are in this situation, I recommend it. Also for those not afraid to look at the reality of the human condition square in the face..
On this page are letters from people claiming to have had
'Encounters with the Angel of Death'
..
On a much lighter note, if you haven't visited the
Stick Figure Death Theatre
, you should!
Two nice cemetery sites are:
Beneath Los Angeles
, and this one, on
Chicago cemeteries
..
While on this trek, I stumbled across
Anomalies Unlimited
; has a death page, but also all kinds of other weirdness to check out..
Taphophobia
- the fear of being buried alive. Is it well founded? Take a look at these sites..
Ghost Magazine Article
Urban Legends
discusses the topic..
A
Civil War soldier
experienced it..
Inventors profited
from it..
..and the
Society for the Recovery of Persons Apparently Dead
tackled the problem..
Sleep well - but not too long.
Tempus fugit
...
"Your lost friends are not dead, but gone before, advanced a stage or two upon that road which you must travel in the steps they trod."
Aristophanes