Extreme Web Surfs!
Wednesday, January 14, 2004
TRANS SIBERIA RAILROAD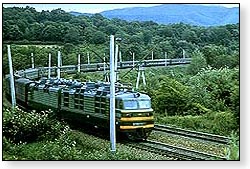 One of THE great railway journeys, a lure to travelers worldwide, 'armchair' and actual..
Most complete overall site,
Russian and German versions also available..
Geographia pages
Smaller but well done
site..
Some travelogues and photo galleries:
Dutch traveler
,
Finnish traveler
,
very good photos, and detailed journal
,
short travelogue
TWO GREAT HISTORIANS
Ibn Khaldun
on the web - this 14th century Arab was one of the greatest historians - and philosophers of history - of all time..
Procopius Online
- read the classic texts of Byzantine history and palace intrigue, including the
Secret History
; Theodora was quite a character!
VARIOUS
What is a Print?
(online exhibit from MOMA - 'Museum of Modern Art')
Explore North
! great site devoted to Arctic matters..
The Chung Collection
. Dr. Chung in 1990 donated to the University of british Columbia a HUGE collection of documents and artifacts of all types. A tremendous leagcy for historians; he particularly focused on a few themes, such as the Canadian Pacific railway, and the experience of the Chinese in Canada..
And finally, one site devoted to
Mysterious People
..
I would rather be exposed to the inconveniences attending too much liberty than those attending too small a degree of it.
Thomas Jefferson